The Man Who Killed My Soul on a Thursday
56,00 lei
Autor: Florica Bud
ISBN 978-606-700-954-5
Descriere
The Man Who Killed My Soul on a Thursday, novel, Editura eLiteratura, Bucureşti, 2017.
This book can also be bought from Amazon via this link: https://amzn.to/3zwX6ec
About the Author
Florica Bud (b. March 21, 1957, Ulmeni / Maramureş. Poet, novelist, publicist. High School "Gheorghe Şincai" Baia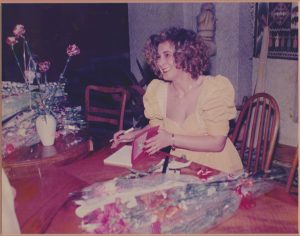 Mare and Faculty of Mining Petrosani. First work published in: The literary magazine "Artpanorama." Her first volume – Love, I'm an unflying object – will come into sight in 1993 (Publisher "Gutinul" Baia Mare); Florica Bud becomes popular in the literary world with her novel The Man Who Killed My Soul on a Thursday (Publisher "Dacia," Cluj-Napoca, 2005 Prize of Writers' Association Bucharest), as Horia Gârbea, who prefaced the book, signals. In the volume I'm Mariatereza, (Publisher "RAO International," Bucharest, 2007), the novelist maintains the same architecture that gives a distinctive note to her volumes. Later, determined to "always seduce her readers," as the literary critic Alex Stefanescu says, she separates the amalgam of genres from previous books, giving rise to the collection of pamphlets We Fix Honor and Short-Necked Bottles (Publisher "Limes," Cluj-Napoca, 2009) and Century for Sale (Publisher "Maşina de Scris," Bucharest, 2012). Then she enters the poetic realm with "I Lose Love Monopoly" and "Crucified between Brackets," both published by "Ramuri" in 2010. Florica Bud frequently writes for contemporary magazines, and she joined the anthologies "Smoke Goggles" and "The BooKitchen with Texts and Images.".
Published books
Love, I'm an Unflying Object, debut book, 

1993

Running Through Oneself, some prose, 

1996

Who Loves School?, meditation on a given topic, 

1997

Billclintonians, 

1999

The Man who Killed My Soul on a Thursday, 

2005; 2016

I'm Mariatereza, 

2007

We Fix Honor and Short-Necked Bottles, 

2009

I Lose Love Monopoly, Romanian-French bilingual volume, 

2010

Crucified between Brackets, Romanian-French bilingual volume, 

2010

Banner of Desires, Romanian-Albanian bilingual volume, 

2010

Longing for Apetency, 

2011

Century for Sale, pamphlets, 

2012

Love, Subject to Reverse Charge – poems, 

2013

Selected Poems, 

2014

Last Night of Love, First Night of Sex, 

2016